Get the BEST Oven Cleaning quote in the South West Today!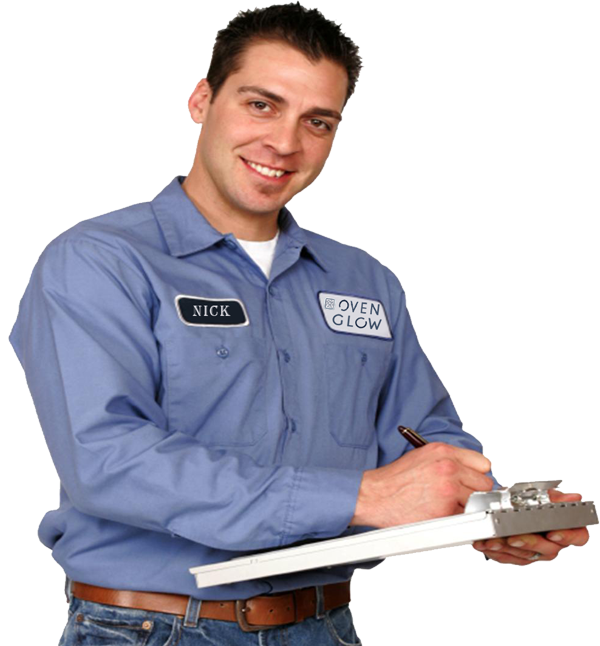 Call Nick Now On 07969 296 553 and Book Your Oven AGA, Grill, Hob or Other Kitchen Appliance In For a Clean!
Oven Cleaning Services For Devon, Dorset, Cornwall & Plymouth
If you are looking to get your domestic or commercial oven cleaned professionally and you are from the Dorset, Devon and Cornwall or the Plymouth area then we can help you. Simply use the form below and we will search your local area for the best quote and email it straight back to you. So book your oven, cooker, hob, Aga or other kitchen of household appliance in for a good clean today!
Let's face it none of us actually enjoys cleaning our oven. It's a dirty task and a very smelly one too! There's all the grease and fat build up, the burnt food pieces, not pleasant at all! But it has to be done and it needs to be done properly for your safety and of course for you and your family's health.
There are many different oven cleaning services in Devon and the South West of the UK, so why should you choose Oven Glow?
Well we have been cleaning cookers, hobs, grills, Aga's, Range masters plus many more kitchen appliances since 2004. We are a local and friendly company based in the South West of the UK and service both domestic and commercial customers in Devon, Dorset, Cornwall and now Plymouth too.
We find that many customers who have their ovens cleaned by us are so pleased that they didn't decide to throw out the oven before they called us!
What is the best way to get my oven cleaned?
That all depends on whether you want to do it yourself, which to be perfectly honest is going to be very time consuming, smelly, dirty and very messy. It does of course depend on the size of your domestic oven too. The bigger the cooker appliance, the longer it's going to take you. Of course it would make much more sense getting a professional and certified oven cleaning company in to do the job for you right? That's where we can help.
Why do I need to get my oven cleaned?
Do you leave your fridge or microwave a long time before you clean it out? Remember how terrible that smells when it is left for a while? Well your oven is like that but much worse. If left for long periods of time such as months and months, the old food deposits just keep building up inside your oven or grill, and even in the nooks and crannies of your hob.
This is a perfect breeding ground for all sorts of nasty bacteria that can cause you to become ill. Plus, if these deposits get into the food you are cooking and they are months old, there is no telling what unseen health issues that could cause you and your family.
Who should I use to get my oven cleaned?
Always, always use a reputable oven cleaning company that has all the right credentials and certified training to carry out your oven cleaning. Also find out how long they have been in business and try and check their online reviews too. Are they a local oven cleaner? Then ask around, see what other people are saying about them. Or you could simply let us do the hard work for you as we only source the highest quality oven cleaning quotes from local reputable companies in your area.
So how long does it typically take to clean your oven?
It all depends on the size really. A standard single or double oven would normally take between one or two hours whilst a Range Master or Aga style stove would be from two hours up to 4 hours depending on the size.
All carbon build up, grease and burnt on food is completely removed along with the horrid smell! We only use nontoxic, pet and child friendly products that are also non caustic so will not damage your Aga or expensive cooker in the long run.
We carefully dismantle all removable parts and place them in our specially designed heated dip tank in the rear of our vehicle. Meanwhile we clean all static elements of your appliance taking great care to leave your home mess free.
Ask us about our rates for Care Homes, Holiday Lets, Hotels, Pubs, Restaurants.
Ask us about our rates for Care Homes, Holiday Lets, Hotels, Pubs, Restaurants.
Below are answers to questions we are often asked.
Do the companies  use toxic chemicals?
No, they only use non-caustic and non-toxic products in your home, meaning your kitchen remains child and pet friendly and safe for people with asthma
Are you a franchise?
No, we are an independant business and members of The Association of Approved Oven Cleaners and the FSB.
What areas do you cover?
We provide professional domestic and commercial oven cleaning quotes in Devon including Brixham, Chudleigh, Dawlish, Exeter, Exmouth, Honiton, Newton Abbot, Paignton, Plymouth, Teignmouth, Tiverton and Torquay. If your town isn't listed, please call us as we may well be able to help you.
What is the Association of Approved Oven Cleaners?
Only cleaning technicians who have undergone a full training course can become members of the Association. By choosing a member of TAAOC to clean your oven you are guaranteed that only non-toxic, non-caustic products will be used in your home and that the company has full public liability insurance.
How long will I have to wait before using my oven?
Your oven can be used immediately after we finish our professional clean.
Can you clean between the glass door?
Yes, we can clean the inside and outside of your door and, if it is not a sealed unit and will not cause damage, we will clean between the glass panels as well.
How often do I need to have my oven cleaned?
We recommend every 6 – 12 months depending on the amount you use your oven.
Will there be a mess?
No, all companies use dust sheets to ensure your kitchen is kept as clean as when they arrive.
How long does the oven cleaning process take?
It depends on the size of the oven and the amount of work to be done but on average a standard clean will take between 2 and 3 hours.
Do you use companies that work evenings and weekends?
We always aim to provide the service our customer needs and will arrange appointments to suit you, this may be on a Saturday or in the evening
Do you undertake commercial oven cleaning quotes?
Yes, we have helped a number of commercial clients in restaurants, hotels, care homes, letting agencies and more get competitive industrial kitchen cleaning quotes.
Do you clean extractors?
Yes, we can get companies to clean ovens, extractors, deep fat fryers, fridges and much more. Contact us to arrange a visit for an individual, no obligation quote.
Our ovens are used throughout the day, will you clean outside daytime hours?
Yes, we will work with your business needs and can arrange night cleans where appropriate.
Rather not pay for your cooker to be cleaned professionally?
Why not have a go yourself with our 'How To Clean Your Oven At Home' Guide Below…
Be sure to buy an empty spray bottle. Bottles that previously contained window cleaning solution, or other substances, do not work very well. That's what I hear.
One person, who wrote in from Cornwall, got their empty spray bottle at a flower shop. Years ago, I got my empty spray bottle at a DIY shop in Plymouth. That was over 10 years ago, wash the baking soda into the spray bottle by running water into the funnel. Fill the bottle with water. After the bottle fills, you'll notice undissolved baking soda that has settled at the bottom of the bottle. Shake the spray bottle so that all the baking soda dissolves in the water.
Unless all the baking soda is fully dissolved, some of it gets left behind in the bottom of the bottle as a residue. When the oven is cold, spray the baking soda and water solution on to the black stuff. Do this one or more times a day. It is important to work on a cold oven for two reasons:
Safety. You can't burn your hands if the oven is cold. You'll get baking soda all over the house if you start with a hot oven. I know. I've done it here in. Starting with a cold oven solves the problem. Use your oven as you normally would. Keep spraying wet baking soda on to the top and sides of the interior of the oven between meals. Wet baking soda will break up the carbon sticking to the sides of the oven. Keep spraying baking soda on to the black stuff between meals until it is all gone.
Don't worry about getting baking soda in your food. Baking soda is one of the prime ingredients of many recipes such as corn bread. It is safe to add it to your food should you do so inadvertently. Using this technique, the black carbon that was stuck to the sides of your oven will flow to the floor of your oven and settle there as a black carbon powder that can be wiped away.
Your oven will look like a mess while this is in process. Choose a good time to do this. At your convenience, when the oven is cold, wipe your oven with a damp cloth. Eventually, you will have to wipe down your whole oven with a damp cloth. The black carbon and baking soda will will settle together on the bottom of your oven. Both are easily removed with a damp cloth.
In theory, you must apply the spray bottle many times but you should only have to wipe down your oven once. Try not to wipe down the oven prematurely as this removes the active ingredient that makes the whole thing work — the baking soda.
Important! Let the baking soda accumulate so that it can do its job.
Repeat, repeat, repeat until all the black carbon is gone. This technique can be used on carbon that is baked on to casserole dishes as well. Keep Spraying to Clean Oven. This technique is the person's oven cleaner. You'll notice that the main ingredient in many commercial oven cleaning products is baking soda (also known as sodium bicarbonate).
One disadvantage to this approach is that it takes time for the baking soda to chemically react with the carbon. Time and repeated applications of the spray bottle solution are before and after oven cleaning your keys to success. A clear advantage to this approach is that it is not very labour intensive. Just keep spraying the carbon stuck to the interior of the oven until it all flows to the bottom of the oven.
Then wipe it all out with a damp cloth. One more thing to consider when self-cleaning your oven in: It takes a lot of baking soda to remove a lot of carbon. Be sure to apply a significant quantity of baking soda before giving up on the project. Significant quantities of wet baking soda and the passage of time are your keys to success. Remember! The baking soda does not react with the carbon unless it is wet.
On particularly difficult spots, you may want to dampen the baking soda in a bowl and apply it directly on these spots as a wet paste. If you do this, keep the baking soda wet for an extended period by coming back often and spraying it with your spray bottle. If the accumulation of carbon is particularly heavy on the bottom of your oven, you can sprinkle baking soda on to the bottom as a dry powder and then dampen it with your spray bottle.
Oven Door Glass Window Warning. A woman, who has successfully used baking soda to clean her oven, has sent me an email with a warning: Be careful when cleaning the glass window on your oven door.
The glass is double-pane glass and if you are not careful, it is possible to get baking soda between the panes of glass. This is what happened to the woman who emailed me.
She tells me that once the baking soda runs streaks down the glass, it is nearly impossible to remove these white streaks unless someone qualified to do so disassembles the oven door and cleans up the baking soda that lies between the layers of glass.
The best solution, of course, is to not allow baking soda to penetrate the interior of the oven door. How do you avoid having this happen to you? Look for the vents on the top of the oven door. These vents, or holes, allow air to escape the interior of the oven door as it heats up. Unfortunately, if you spray baking soda into these vents, it can also allow baking soda to deposit itself between the layers of glass of your oven door.
Your oven door then allows baking soda to run into the vents and down the interior surfaces of the glass window. Of course, you must spray your oven door with quite a bit of water and baking soda to allow this to happen. Here are some possible solutions for this problem: It seems to me that if you put a towel over the vents, this would solve the problem as the baking soda would not penetrate the towel. Since baking soda is an ingredient in some laundry detergent formulas, the towel should clean up later just fine in the washing machine.
Another possibility is to finger paint the baking soda on to the oven door, avoiding the spray bottle entirely. Should you have black spots on your oven door, just create a wet paste with the baking soda. Be careful not to make the paste so wet that it runs. Next, finger paint the baking soda paste on. Try to avoid getting baking soda in the holes at the top of the oven door.
Clean Oven Door in the Horizontal Position. Something that should help you to avoid getting baking soda on the interior surface of your oven door window is to always clean the oven door in the horizontal position. When the oven door is all the way open, it is horizontal. When it is all the way closed, it is vertical.
Always clean the oven door in the fully open, laying down, horizontal position. In this position, it should be difficult or impossible for wet baking soda to run down the interior of the glass.
As I've never personally experienced the problem of getting baking soda between layers of glass on my oven door, all my suggestions are theory only. It seems to me, however, that keeping the door horizontal when actively cleaning it, plus taking all possible precautions to prevent baking soda from entering the oven door vents, should take care of the problem.
Use Baking Soda as an Oven Door Spot Remover. Besides cleaning the oven door in the horizontal position, I'd also suggest you use baking soda to spot remove carbon on the oven door. In, target specific spots rather than using the spray bottle on the whole door. Better yet, dispense with the spray bottle entirely when working on the oven door. With your fingers, use a barely wet baking soda paste to target remove every single black spot on your oven door.